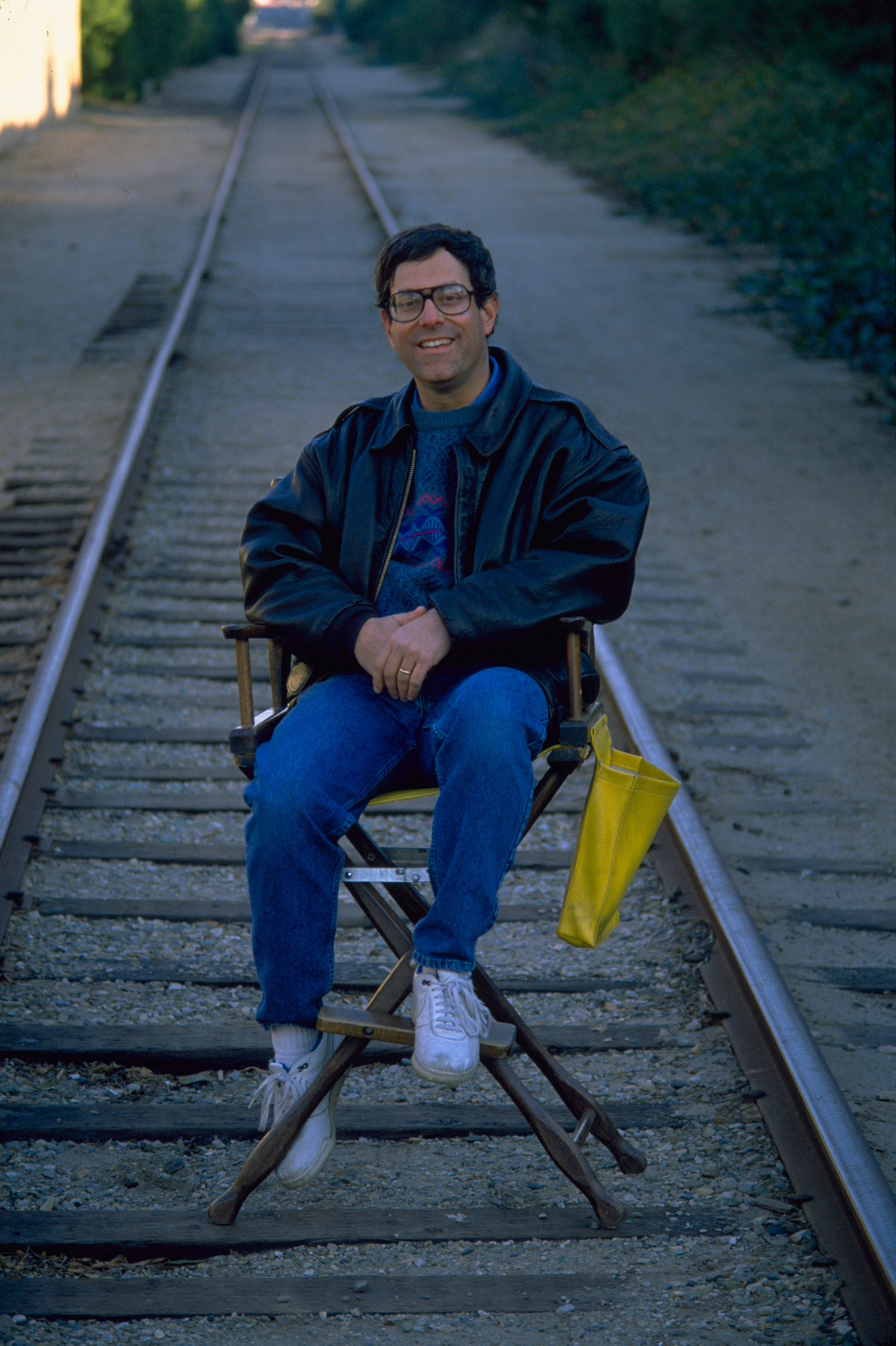 Best known as co-creator of the wildly popular BACK TO THE FUTURE trilogy, award winning Screenwriter-Director-Producer BOB GALE is a graduate of the USC School of Cinema, where he met his frequent collaborator, Robert Zemeckis.
Even before graduation, Gale and Zemeckis set their sights on careers in Hollywood. Working without an agent, they sold several television scripts to Universal Studios, who offered them a seven-year contract as TV writers. But movies, not television shows, were their real love, and so they turned down the lucrative offer. Armed with student films and feature scripts, they caught the attention of, among others, Steven Spielberg and John Milius. Milius hired them to write 1941 (which Spielberg later directed) and thus began their professional motion picture careers.
The duo then wrote a script about Beatlemania in 1964; Spielberg loved it so much he signed on as Executive Producer so that Zemeckis could direct and Gale could produce. I WANNA HOLD YOUR HAND was released by Universal in 1978 to outstanding reviews.
Again working with Spielberg and Milius, the "two Bobs" (as they were known) wrote, produced and directed the comedy USED CARS for Columbia in 1980. Starring Kurt Russell and Jack Warden, the tale of warring car dealers is now considered a cult comedy classic.
Immediately following the release of that comedy, they concocted BACK TO THE FUTURE, but there were four years of rejections before they were able to get it made. The award winning film grossed over $200M in the U.S. in 1985, making it the year's number one box office attraction, and the screenplay earned them Oscar nominations.
While Zemeckis directed WHO FRAMED ROGER RABBIT?, Gale wrote the two BACK TO THE FUTURE sequels which he produced back-to-back for director Zemeckis in 1989. The sequels were enormous hits, and to date the trilogy has grossed close to a billion dollars worldwide.
With Zemeckis choosing to take a break from writing, Gale continued writing screenplays for directors such as John McTiernan, Paul Verhoeven and Walter Hill, who directed the duo's screenplay TRESPASS, which Gale had rewritten. The film, starring Bill Paxton, Ice-T and Ice Cube was released by Universal in late 1992.
Gale began directing in the 90's, with an episode of HBO's TALES FROM THE CRYPT entitled "HOUSE OF HORROR," starring Kevin Dillon and Wil Wheaton.
Having always been interested in technology, Gale was one of the first Hollywood directors to get involved in creating videogames, and the result was the martial arts arcade game TATTOO ASSASSINS, released by Data East. With this pedigree, Gale was asked by Sony New Technologies to create, write and direct their first interactive movie using Interfilm's patented theatrical interactive system. Gale's MR. PAYBACK was released in 1995 in 35 specially equipped theaters. Despite the tremendous audience reaction, business problems between Sony and Interfilm put an end to this promising new format.
Gale then returned to writing theatrical screenplays, now with an intent to direct his own work...as well as doing various big budget studio rewrites. And just for fun, he began writing comic books for DC and Marvel. He was instrumental in creating 1999's smash hit yearlong "Batman" story arc, "No Man's Land," scripting five of those issues; a six-issue story arc he scripted for Marvel's "Daredevil" was published in summer 2001. In 2006, he was asked by Marvel to join the 'Spider-Man Brain Trust' and worked with Marvel editors and writers in guiding the direction for Marvel's flagship character through 2010. Gale wrote six issues of "The Amazing Spider-Man" in 2008 and wrote a ten-part "Spider-Man" digital comics series for Marvel.com in 2009-2010.
Gale's feature film directorial debut was INTERSTATE 60 for Fireworks Pictures which, after being well received on the film festival circuit, was released direct-to-DVD by Screen Media Films in 2003. The fantasy-adventure-comedy was also written and produced by Gale, and starred James Marsden (X-MEN) as a young man who takes a rather unusual road trip on a highway which doesn't exist on any map. The cast included Gary Oldman, Christopher Lloyd, Amy Smart, Chris Cooper, and Ann-Margret, with Michael J. Fox and Kurt Russell in special guest appearances.
Since 1998, Gale has also worked for various law firms and studios as an Expert Witness in screenplay plagiarism lawsuits. Gale has served in this capacity in some two dozen matters.
Gale also served as consultant to Telltale Games for their 2011 BACK TO THE FUTURE computer/video game.
In 2013, Gale wrote RETRIBUTION HIGH — a dark, twisted, horrific tale of high school bullying. Subtitled "A Short Violent Novel of Bullying, Revenge, and the Hell known as High School," the novel is available in both standard and explicit editions exclusively via Amazon.com.
Gale is lives in Southern California with his wife. Currently, like everyone else in Hollywood, he is working on several screenplays, and hopes to direct at least one of them.
Writer / Producer
Writer-Producer BOB GALE, whom California magazine called "one of today's hottest young writers," was born and raised in a suburb of St. Louis, Missouri. He attended Tulane University as an engineering major, but soon opted for a film program and transferred to the USC School of Cinema.
There, he met Robert Zemeckis and the talented duo came to the attention of several prominent filmmakers. In addition to writing and producing "Used Cars," Gale wrote the novelization of "1941" and continues to write screenplays, both with Zemeckis and on his own.
as of June 5, 1985
Writer / Producer
When the executives at Universal Pictures asked the filmmakers of "Back to the Future" if they would be interested in doing a sequel, producer/writer Bob Gale recalls, "We figured it had been a lot of fun making the first one, so why not? Shortly after we agreed, there came the moment wherein we realized that we had to write the script, and had no idea of what it was going to be."
Luckily for Gale and director Robert Zemeckis, the two had unwittingly given themselves a starting point when they ended the first film. "In reality," says Gale, "it was the audience that dictated where we started the sequel. We received thousands of letters asking what happens to Marty and Doc in the future, and we knew we had to be faithful to the faithful. Millions of people had seen the film, and those letters had posed many interesting questions. A lot of kids want to know what happened to Doc's dog, Einstein. When Doc drops Marty at home at the end of 'Back to the Future,' Einstein is with them, but when Doc returns from the future to get Marty, the dog isn't with him. We always figured that Doc had left him in the future, but the kids wanted to know, so we made sure we covered that."
In making the determination of what trials and tribulations Marty and Doc would go through in the future, Gale found his foundation firmly rooted in the present. "So many science-fiction stories take the point that the future's a depressing place, but I'd like to think it's going to be a mixture of good and bad, much like today. We took the point of view that people are the same. The problems that people have dealing with their parents and dealing with love are always the same. That's why Shakespeare's plays still hold up today. He was writing about basic human problems and emotions. The only thing that changes is technology."
After he and Zemeckis fleshed out the storyline, Gale went to work on the screenplay, and found an added benefit of returning to write the sequel. "Writing this film was a great deal of fun because I already knew all of the actors, what they could do, and what their characters would or wouldn't say. I was able to hear the film as I wrote it."
Gale was born and raised in University City, Missouri, a suburb of St. Louis. After a semester at the engineering school at Tulane University, he realized that his ambitions leaned towards creative arts, particularly in writing motion pictures. Transfering to the USC Cinema School, Gale met Robert Zemeckis. As Gale aspired to write, and Zemeckis to direct, the two were drawn to each other by a respect for each other's creative talents and similar cinematic tastes.
They decided to combine those talents, and upon graduation in 1973, began to collaborate on screenplays for Zemeckis to direct. Zemeckis made his directorial debut on "I Wanna Hold Your Hand," which he co-wrote with Gale, with Gale also assuming the role of associate producer of the feature. They followed with the screenplay of "Used Cars," which again found Zemeckis in the director's chair, while Gale served as the film's producer. While Zemeckis was off directing "Romancing the Stone," Gale wrote and produced a television pilot based on "Used Cars." In 1984, the two reteamed for "Back to the Future," which they had begun writing four years earlier. Following the completion of "Back to the Future Part III," Gale plans to "try my hand at directing and see how that works out."
as of October 24, 1989
Writer / Producer
After he and Bob Zemeckis had decided that Marty and Doc would travel back to the Old West in "Back to the Future Part III," writer/producer Bob Gale found himself with a wealth of images and information to draw upon for his screenplay.
"Growing up in the '50s," he recalls, "you couldn't turn on your television at night without seeing some western. I watched them in the movies and grew up on the genre. Over the years, however, the westerns have evolved with each decade bringing a different type of western. The late '30s and '40s featured the classic epic story. In the '50s, they took on a more psychological aspect, and the westerns of the '60s were stark, realistic affairs."
"The West as portrayed in our film is more of a throwback to the early years of the genre," says Gale. "Those films were pure fun, and certainly larger-than-life in their scope. As the 'Back to the Future' series is also a larger-than-life concept, the two genres naturally complement each other. Obviously, we haven't tried to depict the west as it really was, but as we did in the future, and in 1955, we have portrayed the west, as we'd like to think it was.
In creating the latest addition to a classic genre, Gale was especially delighted with the casting of veteran actors Harry Carey, Jr., Dub Taylor, Pat Buttram and Matt Clark. "These guys have appeared in what seems like, a million westerns," says Gale, "and suddenly, they were sitting back in a saloon, reciting dialogue that I wrote. It was the proverbial dream come true."
Although Gale admits "I'd probably be shot dead in a minute if I were to go back to the Old West," he has been given a special place in western lore. In the Hill Valley town square of 1885, the window of the Hill Valley Telegraph newspaper office sports the name "M.R. Gale, Editor."
Steven Spielberg Presents A Robert Zemeckis Film. "Back to the Future Part III." Starring Michael J. Fox, Christopher Lloyd, Mary Steenburgen, Thomas F. Wilson and Lea Thompson. Music by Alan Silvestri. Edited by Arthur Schmidt, Harry Keramidas. Production design by Rick Carter. Director of Photography, Dean Cundey, A.S.C. Executive Producers, Steven Spielberg, Frank Marshall, Kathleen Kennedy. Story by Robert Zemeckis & Bob Gale. Screenplay by Bob Gale. Produced by Bob Gale and Neil Canton. Directed by Robert Zemeckis. A Universal Picture.
as of April 24, 1990